From 24 May 2021 until 27 May 2021 - CIBIO-InBIO, Vairão, Portugal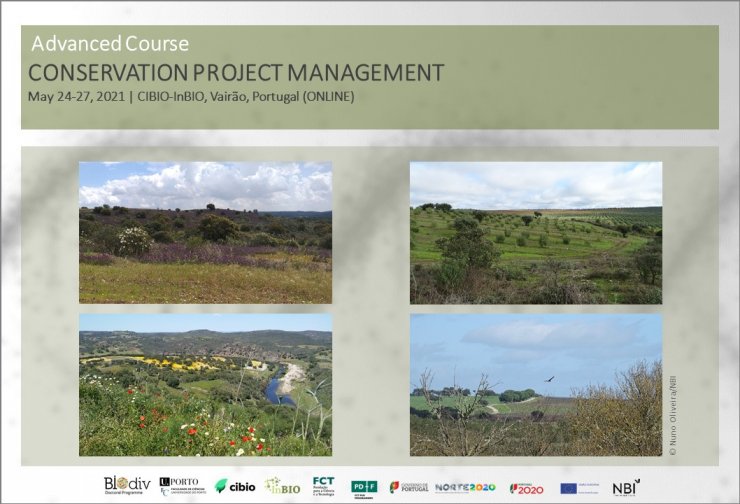 Nowadays, it is vital that researchers can address the ongoing biodiversity crisis in a most practical way. One of the main tools to halt biodiversity decline is the development of science- and economy-based target conservation projects, either focusing in high conservation value species or areas, from protected areas to rural landscapes. The goal of this advanced course is to empower students with skills and knowledge to draft and develop projects plans and proposals for conservation. The course will be divided into four parts: project planning, drafting and management indicators, case study analysis of conservation projects, field visit and a student project proposal acceleration competition. From the large scale project to the local action, students will be prepared for the challenges of conservation, irrespective of working with governmental agencies, NGOs or private initiatives. We strongly suggest for participants to bring forth their conservation ideas!


PROGRAMME:
Morning: 10-11h30 (Hugo Rebelo)
-Biodiversity Conservation in the 21st Century: Challenges in the Age of all Dangers
-International and European Conservation Policy
Morning: 11h30-13h00 (Nuno Oliveira)
-Is Biodiversity Conservation Strategic to Business? Spoiler Alert: Yes
Afternoon: 14h-15:00 (Nuno Oliveira)
-Conservation projects: Benchmarking & Best Practice
Coffee break (15h00-15h15)
Afternoon: 15:15-17:00 (Hugo Rebelo)
-From Ideation to Planning: Engaging with Public & Private Stakeholders
Morning: 10:00-11:30 (Hugo Rebelo)
-Where's the Green? Economics, Financials and Funding
Morning: 11:30-13:00 (Hugo Rebelo)
-Challenge introduction and project preparation
Schedule

: 10:00 to 17:30 every day of the course, lunch between 13:00 and 14:00
INTENDED AUDIENCE
The course will be open to a maximum number o

f

20

participants.

SELECTION CRITERIA
75% of available student slots are reserved for BIODIV students.


Priority will be given to:
• 1st year and other PhD students attending the BIODIV Doctoral Program;
• PhD students attending other courses;
• Other post-graduate students and researchers.

REGISTRATION
Participation is free of charge for BIODIV students | 80 € (students) | 150 € (other participants). CIBIO-InBIO members will have an additional discount of 20%.
Please note that new rules apply for all BIODIV students

Registration deadline: April 22, 2021
All applicants will be notify about whether they are accept until April 30, 2021