Pedro Sarmento, Instituto da Conservação da Natureza e das Florestas (DRCNF-Alentejo) | April 23, 2021 - 15h30 | ONLINE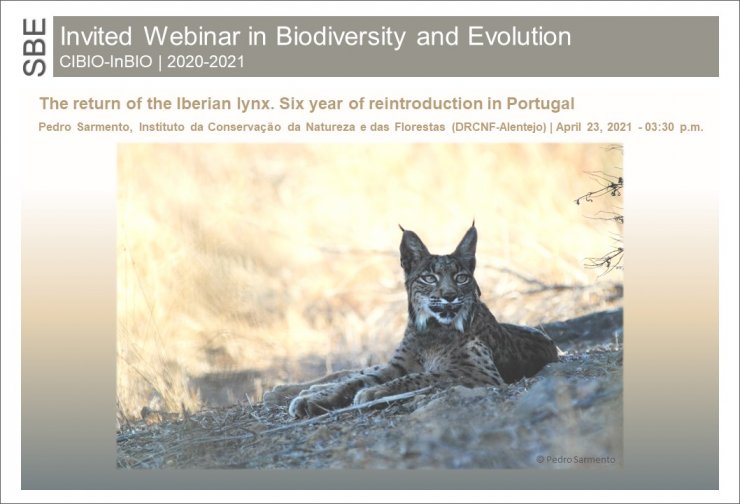 By the end of the 20th century the Iberian lynx had become nearly extinct, comprising roughly 100 individuals in only two breeding populations located in Andalusia. A captive breeding program was started in 2003 with the purpose of obtaining suitable animals for reintroduction and to guarantee a genetic backup as insurance for a potential extinction in the wild. A Spanish-Portuguese EU Life project was started in 2012 to detect, prepare and establish 5 reintroduction areas with suitable capacity to support self-sustaining Iberian lynx populations. Using captivity-bred animals, lynx releases were initiated in Spain (firstly in Andalusia in 2011, then in Extremadura and Castilla La Mancha in 2014) and in Portugal (2015). In 2016 the species conservation status was changed by the IUCN from "Critically Endangered" to "Endangered" and by 2020, the species representatives had increased to more than 800 adults. As for the reintroduction in Portugal, 53 lynxes were released in southeast Portugal (Guadiana valley) between 2015 and 2021. Since then, more than 100 lynxes were born in the wild. The population growth rate, the high number of births and a high survival rate are good indicators that it will be possible to reach the final objective of 30 breeding females by 2022. Once this objective is reached, the reintroduction approach will no longer be supported by annual releases. Instead, genetic management will be applied, consisting of occasional selected releases aimed at maintaining genetic diversity to obtaining a self-sustaining population.
Wildlife biologist with a PhD in Ecology and Biodiversity. Working for more than 25 years for the Institute of Nature Conservation as a conservation technician with experience in protected areas management, wildlife monitoring and creative conservation. Has worked with Iberian lynx since 1994, being responsible for the species reintroduction in Portugal. Collaborated as a consultant in conservation projects in South America and Africa and currently is the technical coordinator in Portugal for the LIFE project "Lynxconnect" which aims to reinforce the lynx reintroduction efforts that were made in last 10 years.
[Host: Paulo Célio Alves, Conservation Genetics and Wildlife Management - CONGEN]
Link to the webinar: https://fc-up-pt.zoom.us/j/99470061804 (Password: FCUP)