From 6 December 2021 until 10 December 2021 - CIBIO-InBIO, Vairão, Portugal (Online & Face-to-face)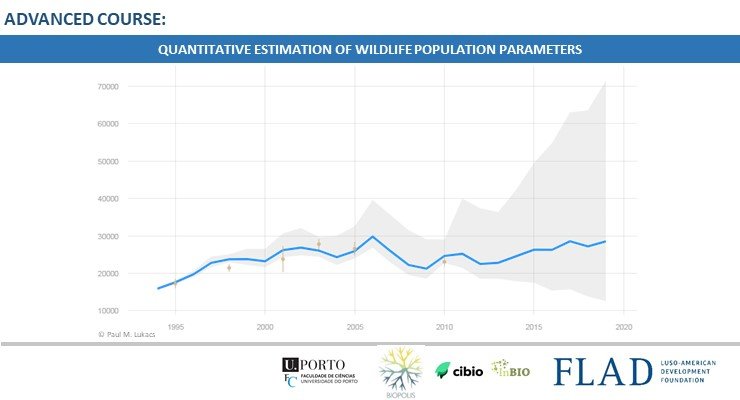 QUANTITATIVE ESTIMATION OF WILDLIFE POPULATION PARAMETERS I
From December 6, until December 10, 2021 - CIBIO-InBIO, Vairão, Portugal (Online & Face-to-face)
During this course we will expose students to the scientific basis and practical applications of hierarchical approaches to the study of wildlife populations. Accurate estimation of wildlife population parameters is key understanding the processes that underlie population dynamics, and rest at the interface of reliable fieldwork and appropriate analytical tools.
Statistical applications and tools in quantitative population ecology are growing rapidly, particularly under the framework of hierarchical (state-space) models. In this course, students will learn how to plan field surveys and collect the data necessary to appropriately employ robust estimation methods, and how to quantify the effect of factors potentially affecting the estimated parameters.
We will explore study design, data simulation, and the application of hierarchical models to estimate wildlife population parameters such as occupancy, species richness and abundance for static populations.
By the end of the course, students should have the confidence to engage in practical design of wildlife quantitative assessments using robust design, and to effectively using data, models for marked animals and unmarked animals, and the ecological concepts to address pressing questions involving monitoring and conservation of wildlife populations.


PROGRAMME:
I. Introduction to Hierarchical Modeling
Theoretical Background

Example problems

Student exercises
II. Applications with unmarked animals
Linear models, Generalized Linear Models and Random Effects Models

The problem of imperfect detection

Data simulation

Student exercises
III. Models for unmarked populations
Binomial N-mixture models to estimate abundance from counts

Multinomial N-mixture models for abundance

Hierarchical distance sampling

Student exercises
IV. Applications with unmarked animals
Single-species distribution and occupancy with site-occupancy models

Species interactions with multi-species occupancy models

Species richness with community occupancy models

Student exercises


SCHEDULE
9:45am to 17:45pm, lunch between 13:00-14:00, days 6, 7, 9, 10 of December


COURSE INSTRUCTORS
Pedro Monterroso | CIBIO-InBIO | CONGEN
Paul M Lukacs | Wildlife Biology Program | University of Montana

INTENDED AUDIENCE
The course will be open to a maximum number of 20 participants.


SELECTION CRITERIA
75% of available student slots are reserved for BIODIV students.
Priority will be given to:
• 1st year and other PhD students attending the BIODIV Doctoral Program;
• PhD students attending other courses;
• Other post-graduate students and researchers.

REGISTRATION

Participation is free of charge for BIODIV students | 80€ (students) | 150€ (other participants). CIBIO-InBIO members will have an additional discount of 20%.
Please note the rules apply for all BIODIV students

APPLICATIONS DATES

Registration deadline: November 4, 2021
All applicants will be notified about whether they are accepted until November 16, 2021

Fill out the application form and confirm that the following message appears:

Thanks for your application!
Applicants will be informed of their acceptance by email.