CIBIO-InBIO, Vairão, Portugal (Face-to-face)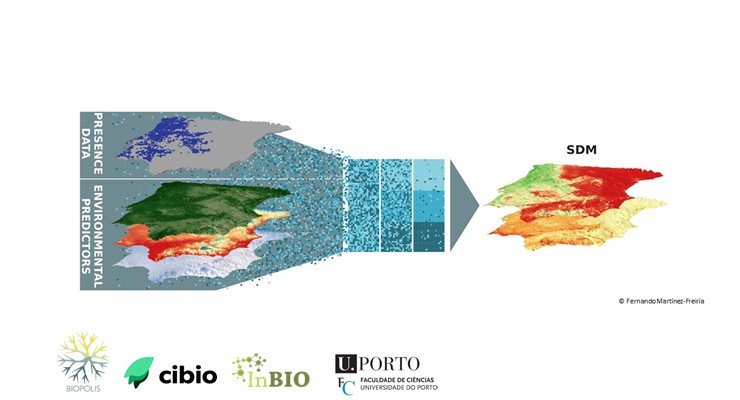 ECOLOGICAL NICHE MODELLING FROM THEORY TO PRACTICE
From February 07, until

February 11

, 2021 - CIBIO-InBIO, Vairão, Portugal

(Face-to-face)
Ecological niche models (ENM), and/or species distribution models (SDM), are a series of computer algorithms designed to predict the distribution of species in geographic space based on a mathematical representation of their distribution in the environmental space. These state of the art tools are frequently used in different biological disciplines such as ecology, biogeography, evolutionary biology or conservation. The aims of this course are to provide (1) an overview of the theoretical aspects, applications and techniques of ENM, and (2) a series of practical cases exemplifying relevant scientific uses of ENM


PROGRAMME:
Day 1
Morning
Presentation of instructors and participants.
1.1 Overview of the program. What is the niche?
1.2 The Ideal Ecological Niche Model
1.3 - Which data? Data sources for observations and explanatory variables.
Afternoon
1.4 Practical session - Intro to R and QGIS
Day 2
Morning
2.1 Diversity of algorithms - Presence/absence
2.2 Diversity of algorithms - Presence-only
2.3. Diversity of algorithms - Presence-background
Afternoon
2.4. Practice - Exercises with example or own data. Running GLM, BIOCLIM and Maxent models.
Day 3
Morning
3.1 - Model Performance - Diversity of metrics
3.2 - Model comparison - Null hypothesis testing
Afternoon
3.3 – Practice – performance of models / niche comparison tests
Day 4
Morning
4.1 - Projection in time (past, future)
4.2. - Projection in space
4.3 – Practice – Run models and projections. Example with Multimodelling platforms.
Afternoon
4.4 – Mechanistic niche modelling for biogeography and conservation (OPEN LECTURE)
Day 5
Morning
Students presentations. Other topics and questions.

SCHEDULE
9:45am to 17:45pm, lunch between 13:00-14:00


COURSE INSTRUCTORS
Fernando Martínez Freiría | CIBIO-InBIO | BIODESERTS | PHENEVOL (coordinator)

Pedro Tarroso | CIBIO-InBIO | BIODESERTS

Ana Márcia Barbosa

Urtzi Enríquez Urzelai | Institute of Vertebrate Biology - Czech Academy of Sciences

INTENDED AUDIENCE
The course will be open to a maximum number of 20 participants.


SELECTION CRITERIA
75% of available student slots are reserved for BIODIV students.
Priority will be given to:
• 1st year and other PhD students attending the BIODIV Doctoral Program;
• PhD students attending other courses;
• Other post-graduate students and researchers.

REGISTRATION

Participation is free of charge for BIODIV students | 95€ (students) | 200€ (other participants). CIBIO-InBIO members will have an additional discount of 20%.
Please note the rules apply for all BIODIV students

APPLICATIONS DATES

Registration deadline: January 07, 2022
All applicants will be notified about whether they are accepted until January 14, 2022

Fill out the application form and confirm that the following message appears:

Thanks for your application!
Applicants will be informed of their acceptance by email.